As with most areas of the antiques and collectibles market there are incredible people behind the scenes with such a passion for their particular interest that it is infectious. This is just the case with Bridget McConnel. She has been dealing in antique needlework tools and sewing implements for more than 30 years. Before this she was an avid collector and amassed the definitive collection in this field. She managed to bring this relatively unknown area of collectibles to the fore and since then auction houses have held sales devoted to the subject and many new collectors have joined her in acquiring similar items.

Bridget McConnel has written several books: "A Collector's Guide to Thimbles", 1990, "The Story of the Thimble", 1997, and "Antique Needlework Tools", 1999. She is the recognized international expert in this area.  
But let's go back a bit.  A dealer like her doesn't spring out of nowhere. Bridget started her career as an actress, and she still works in this field. She attended the Sorbonne and the Royal Academy of Dramatic Art. She also earned a BA.hons and MA in English and Creative Writing from Goldsmiths College. She has been in plays, films and television programmes spanning many decades, appearing in films such as "Shakespeare in Love" (1998) and most recently "Miss Potter" with Renee Zellweger in 2006. She started antique collecting as something she could pursue during the day while she was doing a play in London, or on tour, in the evenings.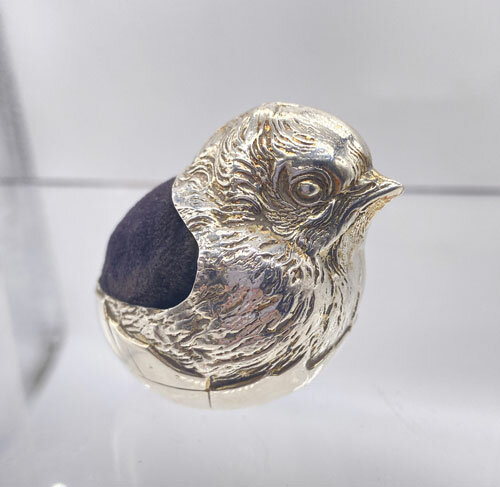 After building up her collection over a period of many years, she started The Thimble Society in 1981 with her Mother. They opened a stand at Gray's Antiques Market where they traded for more than 20 years. Bridget can now be found at the famous Portobello Road antiques market in the Admiral Vernon Arcade.
Being such a creative person, it is understandable that she would gravitate towards becoming a connoisseur, expert, and dealer in a field she loves. She is passionate about antiques and it shows in her incredible collection. Intercollector is very privileged to offer for sale just a small part of her extensive stock.